Excursions to Half Moon Bay will let you explore the magical and serene beauty of this white sand beach just minutes from Grace Bay beach on Providenciales.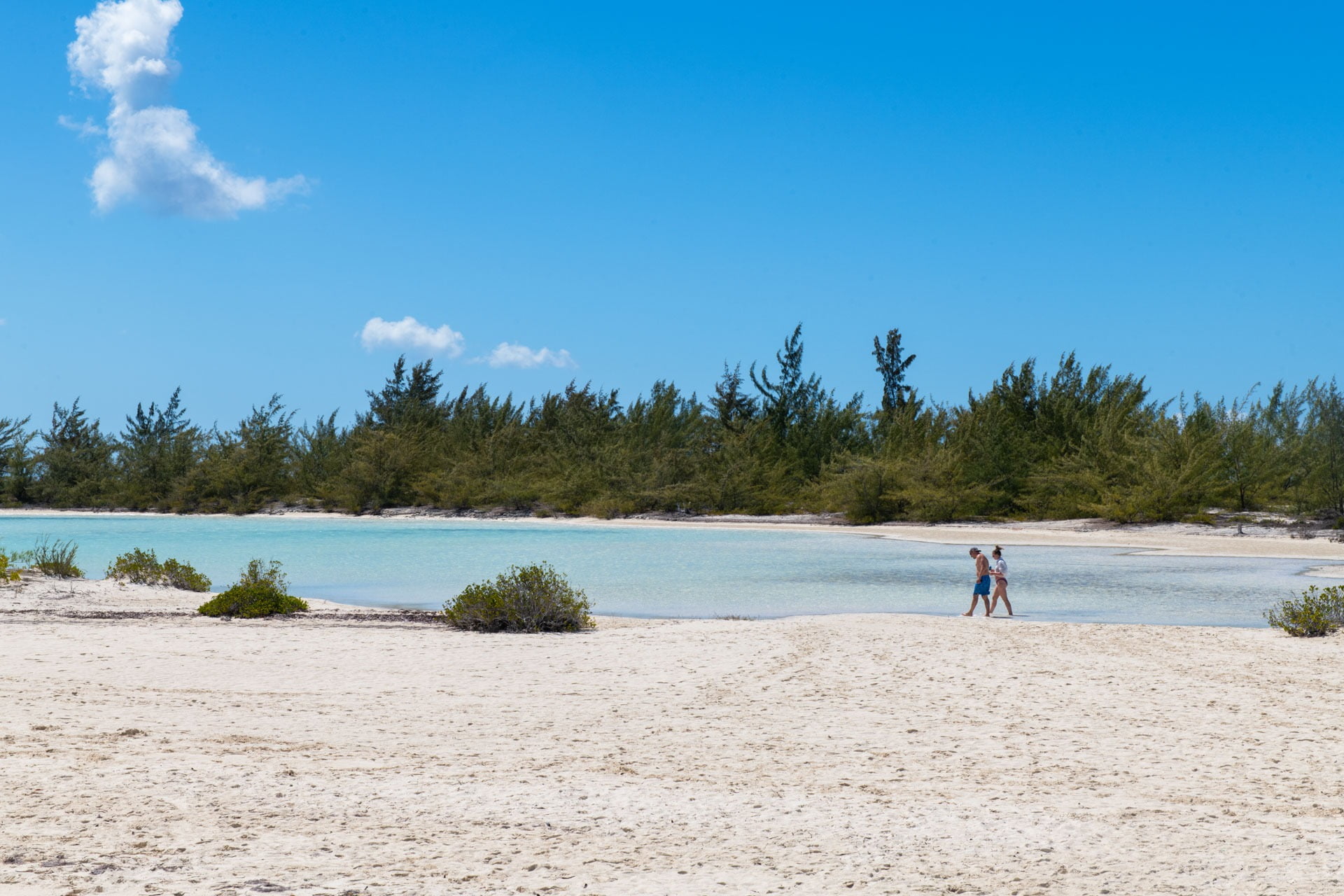 Where is Half Moon Bay?
An excursion to Half Moon Bay is a short 15 minute boat ride from Grace Bay beach. This strip of sugary sand lies one mile from Providenciales, between Water Cay and Little Water Cay.
Why add a Turks and Caicos Excursion to Half Moon Bay?
Once you see the crystal clear water lapping against the most brilliant white sand beach, you'll know exactly why you selected a Half Moon Bay excursion.
Let's Take a Boat Excursion to Half Moon Bay!
Do you want to see famous Half Moon Bay in Turks and Caicos? Then, let's go!
Did you see the map of Half Moon Bay? Located just minutes from Providenciales but feels like a world away.
Highlights of Half Moon Bay
Originally a 400-foot wide sand bar that over time divided into two and became a sublime crescent shaped bay.
It is a strip of ¾ mile stretch of soft sand.
Summer water temperature ranges between 82 to 84 degrees (28-29 celsius) and winter water temperature falls between 74 to 78 degrees (23-26 degrees celsius), making it one of the finest Turks and Caicos excursion destinations for swimming, shelling, and daydreaming with family and friends.
Select Your Excursion to Half Moon Bay, Turks and Caicos
Departure Point
Check in on the beach behind the front reception building at the Alexandra Resort.
Complimentary pick-ups in Grace Bay and Leeward areas are available.
Excursion Option #1: Snorkel & Conch Cruise
Two trips seven days a week.
Choose from 9:30 am to 1:30 pm OR 1:30 pm to 5:30 pm.
Enjoy light snacks, fresh conch salad, beer, rum punch, soft drinks and water.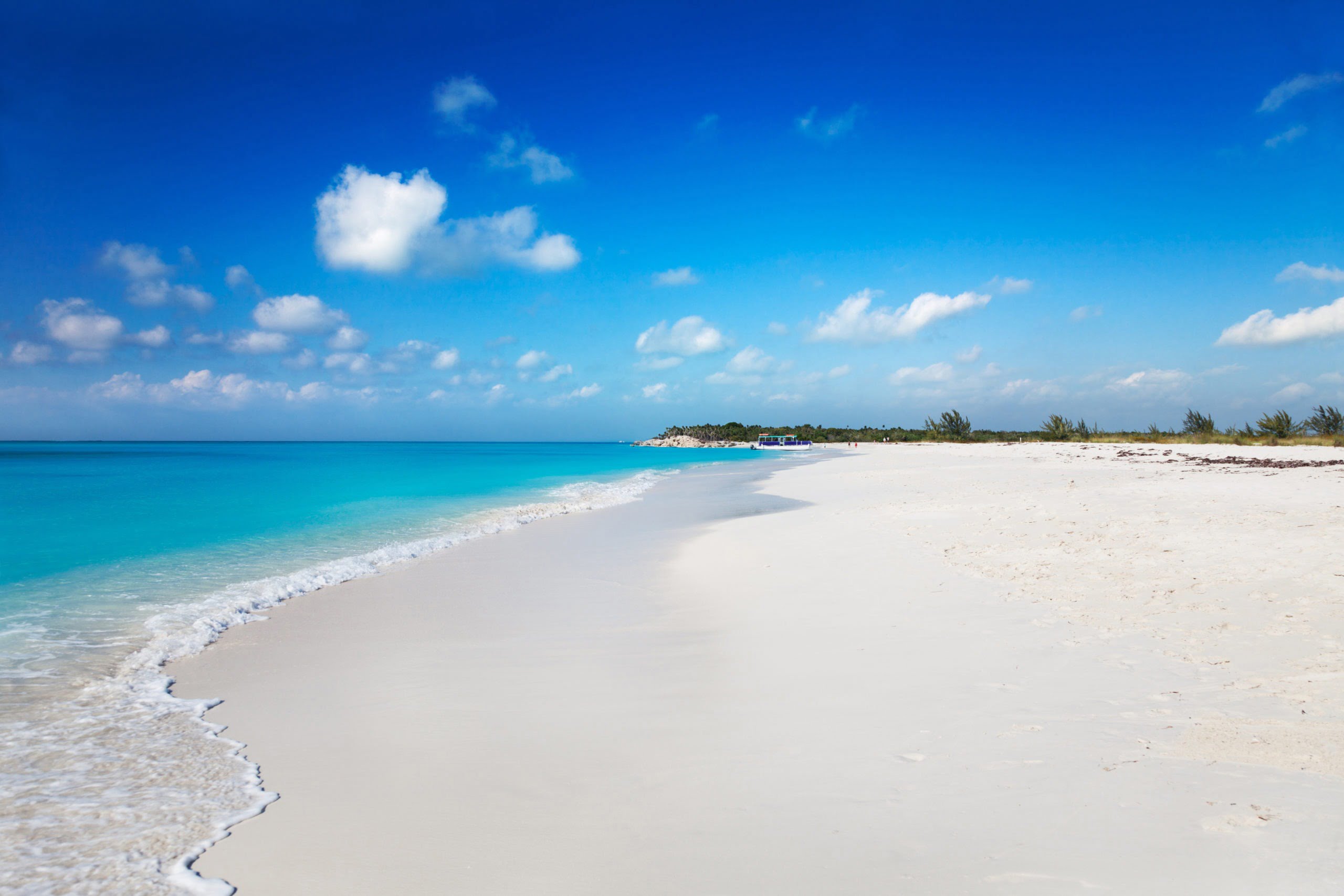 Excursion Option #2: Dream Day Getaway
One trip daily
Departs from Grace Bay Beach at 9:30 am and arrives back at 5:30 pm.
Includes stops at other locations, full BBQ lunch, beer, rum, soft drinks, and water.
Freshly harvested conch to prepare a delightful, zesty conch salad right before your eyes!
How to Book Your Turks and Caicos Excursions to Half Moon Bay
Visit our tours page to find the perfect Turks and Caicos excursion for you! Or contact Caicos Dream Tours directly at 649-231-7274 or 649-231-7275
Boat Transportation
Modern, well outfitted catamarans and deck boats – shade, comfortable seating, onboard washroom.
Equipment for Your Trip
Mask, fins, and snorkeling vest all provided so you can explore the marvelous Turks and Caicos coral reefs with friendly and knowledgeable crew.
So Much to Enjoy at Half Moon Bay
Day trips to Half Moon Bay lets you explore the natural beauty of the Turks and Caicos Islands, away from the bustle of Grace Bay beach.
Beautiful beach on northern side with clear azure water.
Sheltered lagoon on southern side with pristine water.
Favourite activities: snorkeling, diving, stand-up paddleboarding, kayaking, snorkeling, birdwatching, beach activities.
Near Iguana Island (Little Water Cay) with opportunity to view rare rock iguana in natural habitat.
Book your exursion to beautiful Half Moon Bay and enjoy a magical experience in the Turks and Caicos Islands.

Read More