When most people think about a tropical island vacation, they often imagine seeing majestic dolphins swimming through the clear blue waters. The Turks and Caicos Islands are no exception! An incredible marine environment supports a wide variety of species, creating a unique and unforgettable experience for those who go on a snorkeling cruise or boat charter. Among this fantastic marine ecosystem are the Atlantic bottlenose dolphins and the Atlantic spotted dolphin. So what should you know about swimming with dolphins in the Turks and Caicos?
Can You Swim with Dolphins in the Turks and Caicos?
There are no captive dolphin "attractions" in the Turks and Caicos, which is good for the dolphins' sake. But don't worry, swimming with dolphins in the Turks and Caicos is still possible and seeing dolphins is common! You are likely to encounter dolphins in the wild within their natural habitat, which is much more impressive than seeing dolphins in captivity. The best way to do this is to take a boat charter. While there are no guarantees you will encounter dolphins, it isn't out of the question. If you do see wild dolphins, avoid swimming towards it, as this could scare them off. Instead, just enjoy their presence for as long as they will stick around. 
See Dolphins in the Turks and Caicos
Small pods of 5-10 dolphins can be seen all around the Turks and Caicos Islands, but dolphin sightings most commonly happen in the Caicos Banks near Providenciales and North Caicos, off of Grace Bay and the cays between Providenciales and North Caicos, and outside the barrier reef off of Providenciales, simply because that's where most boat traffic is. You might even catch a glimpse of the famous TCI celebrity, Jojo the Dolphin, who is a frequent visitor of Grace Bay and Pine Cay.
Jojo the Dolphin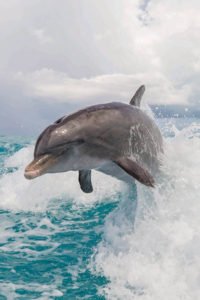 Jojo is an Atlantic bottlenose dolphin who is one of the most friendly around the islands. He is a wild dolphin but is known to interact with humans freely. Jojo was declared a National Treasure by the local government in 1989 and has really made a name for himself. He frequently swims in the waters of Grace Bay Beach, and you'll know it's him by the unfortunate propeller scars on his back. Even though Jojo is friendlier than other dolphins, visitors should still avoid trying to touch, feed, or swim toward him, as he is wild. Jojo has become a symbol of marine conservation in the Turks and Caicos, especially regarding proposed dolphin captivity. He even has his own bumper sticker stating, "Jojo says NO to captive dolphins."
Dolphin Sightings on Boat Charters
While sightings are never guaranteed, your best chance to see dolphins in the Turks and Caicos is on a boat charter. Dolphins are playful creatures that like to play in the boat wake, and while they do visit close to shore from time to time, they are most likely swimming around further out in the water. A snorkeling boat charter is an excellent choice that will provide an opportunity to observe dolphins in their natural habitat. It is truly an incredible experience! There are many benefits of a private boat charter, so even if you don't happen to see any dolphins, there is still plenty of beautiful scenery when snorkeling in the Turks and Caicos. Providenciales is world-renowned for its snorkeling thanks to the barrier reef and its incredible marine environment. It is home to millions of tropical fish, coral, sea turtles, nurse sharks, eagle rays, and of course, dolphins. 
Book a Boat Charter 
If you're hoping to see dolphins on your trip to the Turks and Caicos Islands, book a boat charter with Caicos Dream Tours. With a variety of boat charters available such as half and full-day snorkeling, fishing, and private charter excursions, you can head out to the pristine blue waters to witness the magnificent marine life. Visit the Caicos Dream Tours website to learn more or book your boat tour today!
Read More